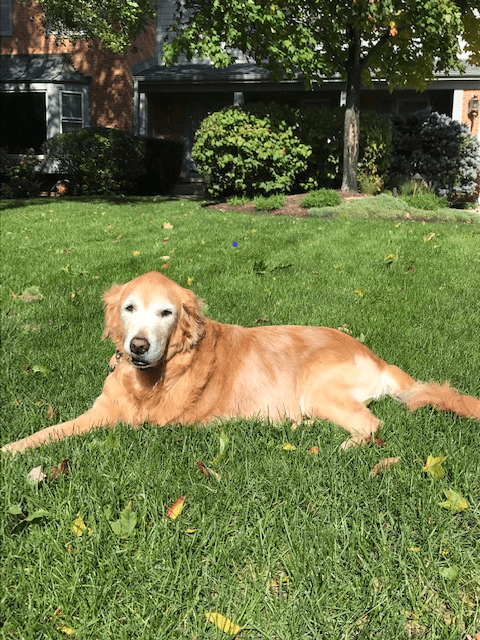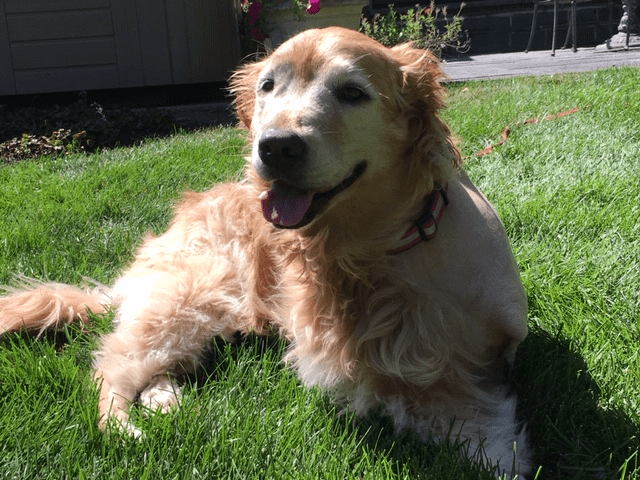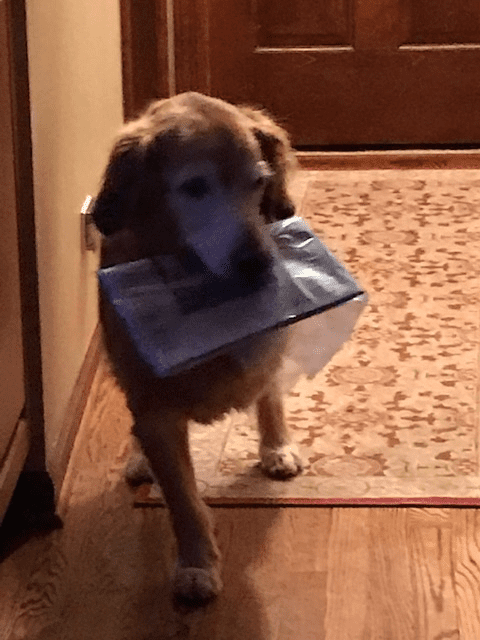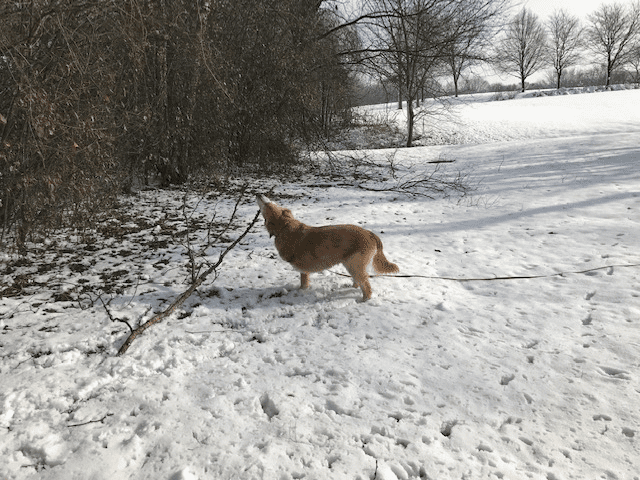 Bella loved people and food. She was fine with other Dogs – just a Golden girl that preferred people. She was sweet, happy, intelligent and strong willed. Bella was diagnosed with joint cancer in August 2017 and immediately had surgery on front leg. Bella was amazing – insisted to go outside night of surgery and happily greeted us the next morning. The pain from joint was gone and she was ready to go. Recovery was not without incident – but she weathered it better than us. A few weeks post op she counter surfed and stole a bagel – while I was telling her "NO – DROP IT " on the inside I felt GREAT – THAT A GIRL – YOU GO FOR THAT BAGEL! That was the sign for me that Bella was 100% Bella – the counter surfing dog that if not pay attention she would seize the opportunity and food or paper towel would be gone. I was fortunate enough to work reduced hours from home while she healed and when she was ready started hydro therapy, PT and massage therapy. The therapist was amazed at how well Bella was walking in the water tank – until I mentioned that she had her front leg stationary on the ledge while enjoying peanut butter smeared on the tank and was just using her back legs. Therapist said that was a first. The tank made her anxious so we stopped that part of therapy. I would highly recommend PT and massage for anyone that can.
We were blessed with 10.5 years with Bella – 2.5 years after surgery. I will always be grateful for our Vet's reassurance that it was the loving decision, Tripawds have wonderful lives and that she would be happy. The Tripawd community and information provided helped a great deal – forever grateful to the Tripawd community and resources.
Bella loved being outside and especially loved the Wyoming mountain air. After the surgery she traveled with us everywhere. Long 1,400 mile car rides Illinois to Wyoming four times a year – she was the best passenger imaginable and the hotel's staff loved her. A fellow Tripawd parent heard about her and knocked on our door to visit Bella. Bella came with my Daughter and I to tour Law Schools and visited my son and daughter at school. Son's friends were so compassionate when they came to visit – would visit Bella before even seeing my son. Bella was the favorite. Bella attended a few of our Granddaughter's soccer games – same energy when attended my Son's soccer games as a pup and Lacrosse games. Wherever we went Bella was welcomed with an abundance of love from friends, family, neighbors and strangers.
The surgery was the best decision for our Bella. Bella adapted so quickly and enjoyed her only slightly modified routine for over two years. Enjoyed over two years that would not have without surgery. Bella rocked life as a Tripawd!
Two summers in Mountains
Two winter vacations
Exploring and cooling off in Snake River
Stealing marshmallows while making s'mores
Countless times of jumping up on window seats, beds, couch, ottoman's – only change was encouraging her to wait for assistance to get down to avoid strain on front leg
Bringing in the morning newspaper – even in Polar Vortex in 2019 raced past me for the paper.
Two more Christmas Mornings
Two+ more years of joy
Helping pick up limbs after storm
Protecting me from coyotes – Unbelievable sense to protect her family and children. She remained fierce.
Relaxing in the yard
800+ more evening dental chews – A definite highlight of Bella's day
800 Wonderful mornings of –"Let's Start Our Day !"   Smiley face and tail wagging
800 more nights of  bedtime routine – complete with massage & bedtime treat
Last October noticed Bella had some minor difficulty walking and splayed one day. Of course while at Vet she was energetic and did not display any problem nor did tests indicate any issues. Subtle changes then shoulder started to protrude – back to Vet for more tests. Numerous x-rays, ultra sound and blood work – still nothing to explain. Referred to a specialist – more x-rays and blood work – all normal so based on Physical exam and video of her walking thought shoulder injury and referred to Vet that specializes in Physical Therapy and acupuncture in late November. She needed assistance to walk up/down stairs and anything beyond a room. The therapy and acupuncture helped the shoulder and Bella loved going there. In December Vet was hopeful for a recovery – thought 6 months of therapy. By January disconcerting other changes – choked on her evening chew, continued balance issues, stopped barking, then noticed weaken tongue and difficulty licking peanut butter, eating and drinking water and facial/eye changes. A few times seem disoriented. Last few weeks continued to decline and Vet was no longer hopeful and no other recommended treatments. Presumed Brain tumor or possibly a neurological issue. Vet said could do brain and spine scans but expressed concern of stress on Bella since would not recommend surgery if tumor and nothing aware of to help if neurological. Said could test if I needed answers but that it would be for my benefit and not Bella's. Two weeks ago had even more difficulty chewing food – not able to have her favorite treat – so switched treats and hand fed her moist food last few days. The Vet advised me that it was time to let her go. Most difficult decision I have ever made. Two voices in my head one that it was the loving compassionate action; the other NO wait it out maybe just maybe she will improve or have a few more good days. Forced myself to follow through in order to avoid the possibility of a painful traumatic crossing. Expected a boost in her energy when at vet on Monday – but not to extent. Bella was happy to be there – surprised as to how much less I need to support her as she ran into the room – so different than at home. Bella was enjoying baby food with tail wags in abundance as she crossed over the rainbow bridge.
It was suggested that I share pictures of Bella. I was avoiding seeing anything of hers and had all of her belonging out of sight. I thought looking at pictures of Bella would be too painful – so hesitantly started looking for pictures. Jerry's recommendation was incredibly helpful. Seeing pictures of her is helping me to realize how very much she declined from last October. Love seeing pictures of her enjoying daily activities in her strong body when she could stand, walk and eat on her own.
I write this to remember Bella and honor how believe she wanted to live.   Our family misses her immensely. I carry the guilt that ended her beautiful life too soon. I did a lot of things right and some things regrettably think should have handle differently; unfortunately I am replaying in mind primarily what I could have done better, should not have done or should have tried. I will try to Be More Dog in hopes for the guilt to subside and leave more space and energy to honor our beautiful Bella's memory.
In time hope to be healed enough and ready to open heart and home to a precious dog  and love them for who they are and not to fill the void of missing Bella.  It may take weeks, months (sure hope not years) before it will feel right. I know in my heart that Bella would want this for our family. Bella will always be in our hearts and eventually that love will lead us to a dog – possibly/likely a Tripawd that would enjoy a quiet life filled with lots of walks, playing, exploring nature,  relaxing outside, traveling and most of all the affection and unconditional love that Bella provided  us.
Bella Forever In My Heart